YOUR FIRST CHOICE FOR ADVENTURE - DAY OR NIGHT!
When normal people choose to tuck away and slumber, you choose to own the night. At this time, you need night vision binoculars, which can help you better experience the fun of night observation.

Our Night Vision Binoculars are a hand-held digital night vision viewing system that utilizes an infrared-sensitive CMOS sensor, for providing outstanding image quality. Fully multi-coated optics increase light transmission and decrease glare.

Great for many applications including night hunting, reconnaissance, security, surveillance, camping, boating/fishing, bird watching, wildlife observation, search and rescue, and video recording in continuously changing light conditions – from dawn to absolute darkness.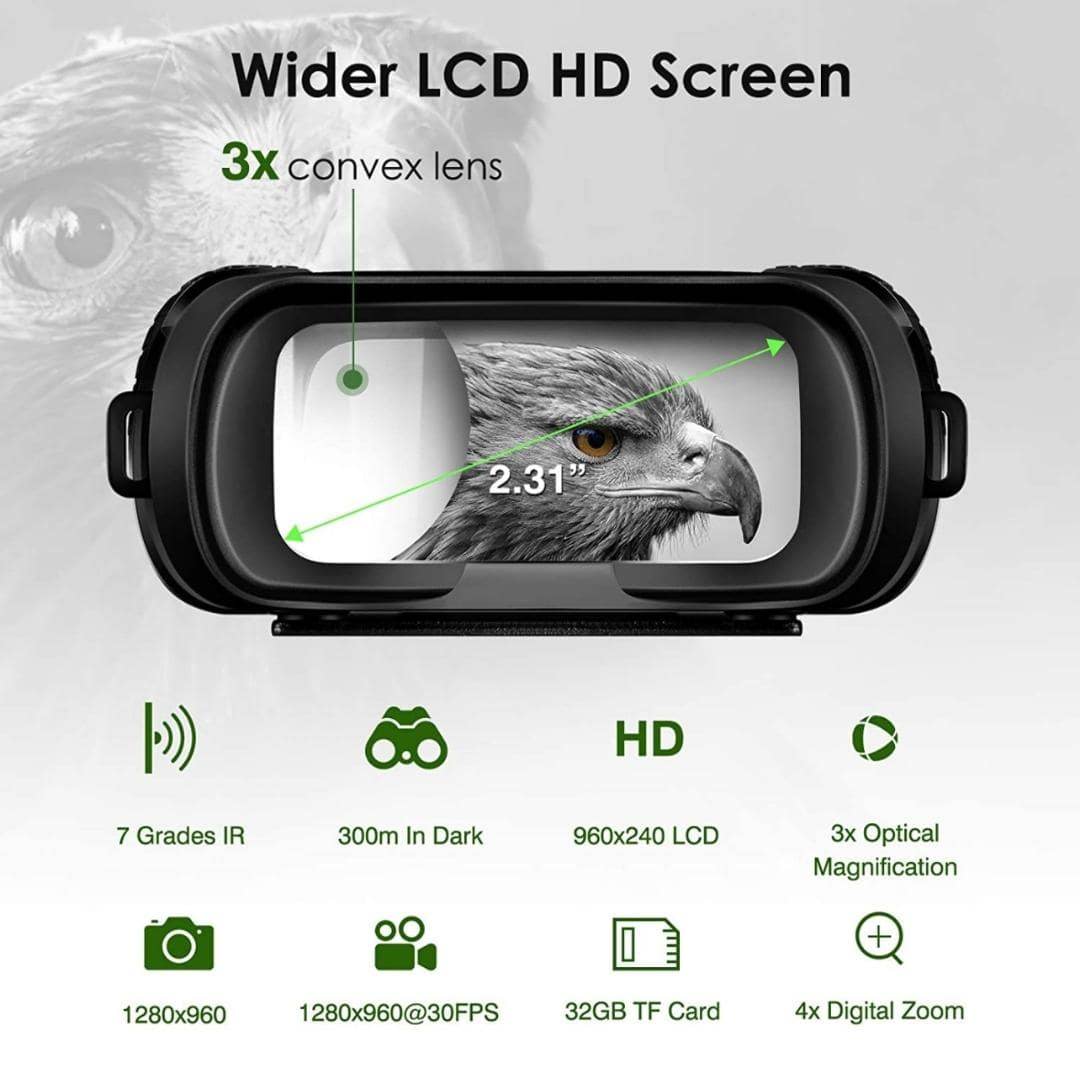 ✅WIDE SCREEN FOR BROADER VIEW: A larger screen takes you to a wider visual experience! Night vision goggles with a 2.31'' TFT LCD screen is converted into a 3-inch large screen through a convex lens so that you no longer miss the wonderful moments of Wildlife at night.

✅HIGH-PERFORMANCE NIGHT VISION:
High-performance Night Vision Goggles enable you to achieve a perfect view without limitation. With 7 gears adjustment, allows you to have a clear view in range in 100% dark. Do not miss the fun of spotting wildlife in pitch dark!
✅MULTIFUNCTIONAL: Thanks to outstanding optical clarity, you can quickly capture perfect photos and high-definition videos. The smooth playback and pause functions allow you to review wonderful moments at any time. It's never been easier to use a USB to transfer crisp photos & videos to any electronic device to instantly share with your friends.

✅LONG CONTINUOUS RUNTIME: Up to 6-8 hour continuous runtime. Operates on 6 AA batteries (not included).

✅DAY & NIGHT USE: The Night Vision Binoculars with digital infrared can be used both day and night. All the scenery presented in front of you is the most realistic color, and the visual distance can reach infinity. The night scene will turn into a black-and-white movie, and the invisible infrared beam will be used for more concealed monitoring, and the visible distance can reach 984ft.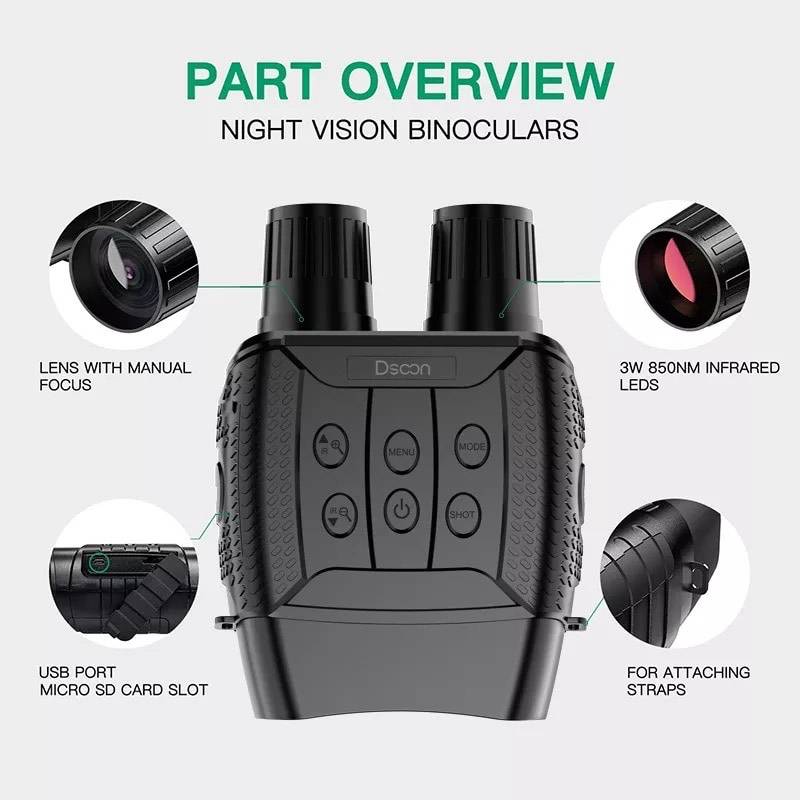 Use Night Vision Goggles in Different Scenarios
This is your ideal equipment, whether for expeditions or investigations. Bring Infrared Binoculars with Night Vision for night hunting, camping, cave exploring, night fishing, and bird watching. Whether it is a jaguar, a coyote, or a wild boar, remote observation can ensure your safety. If you only want to use it for security monitoring to prevent intruders from entering, it is also a smart choice.
Excellent Non-slip Design
The thoughtful non-slip design allows you to have no worry about dropping the night vision goggles at night accidentally. Help you hold the night vision device tightly for any operation. With the IP56 water resistance feature, waterproof Night Vision Binoculars work well even on a rainy day.
Smooth One-click Zoom In & Out
That's easy to control! Unlike other complicated products, you can zoom in or out smoothly, allowing you to monitor and photograph wild animals more clearly than ever!
Simple Switching Between Modes
No need for complicated operations, a simple button allows you to easily switch between taking HD photos, recording, and playing 960P videos. Use your favorite mode to record amazing moments anytime, anywhere!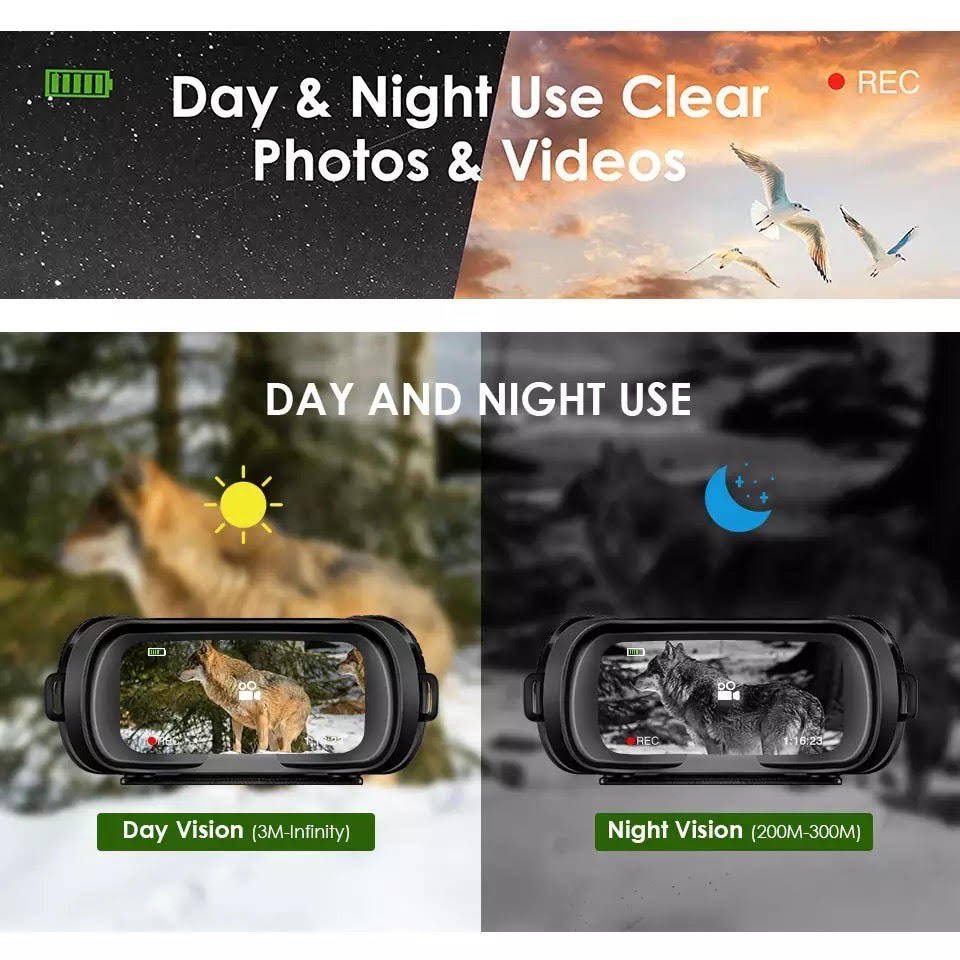 Whether you're an avid hunter who likes to be out before the break of dawn, a thru-hiker, tracking BigFoot, or taking part in tactical training maneuvers, having a reliable set of night vision binoculars can really come in handy when you're trying to assess your surroundings in low light or dark conditions. It also helps that they're super cool.
Remember pretending as kids that you were a superhero with some high-tech equipment and impressive powers? This is one of those times that adulting can be really fun. Now you can actually own a wicked pair of night vision binoculars, instead of just pretending.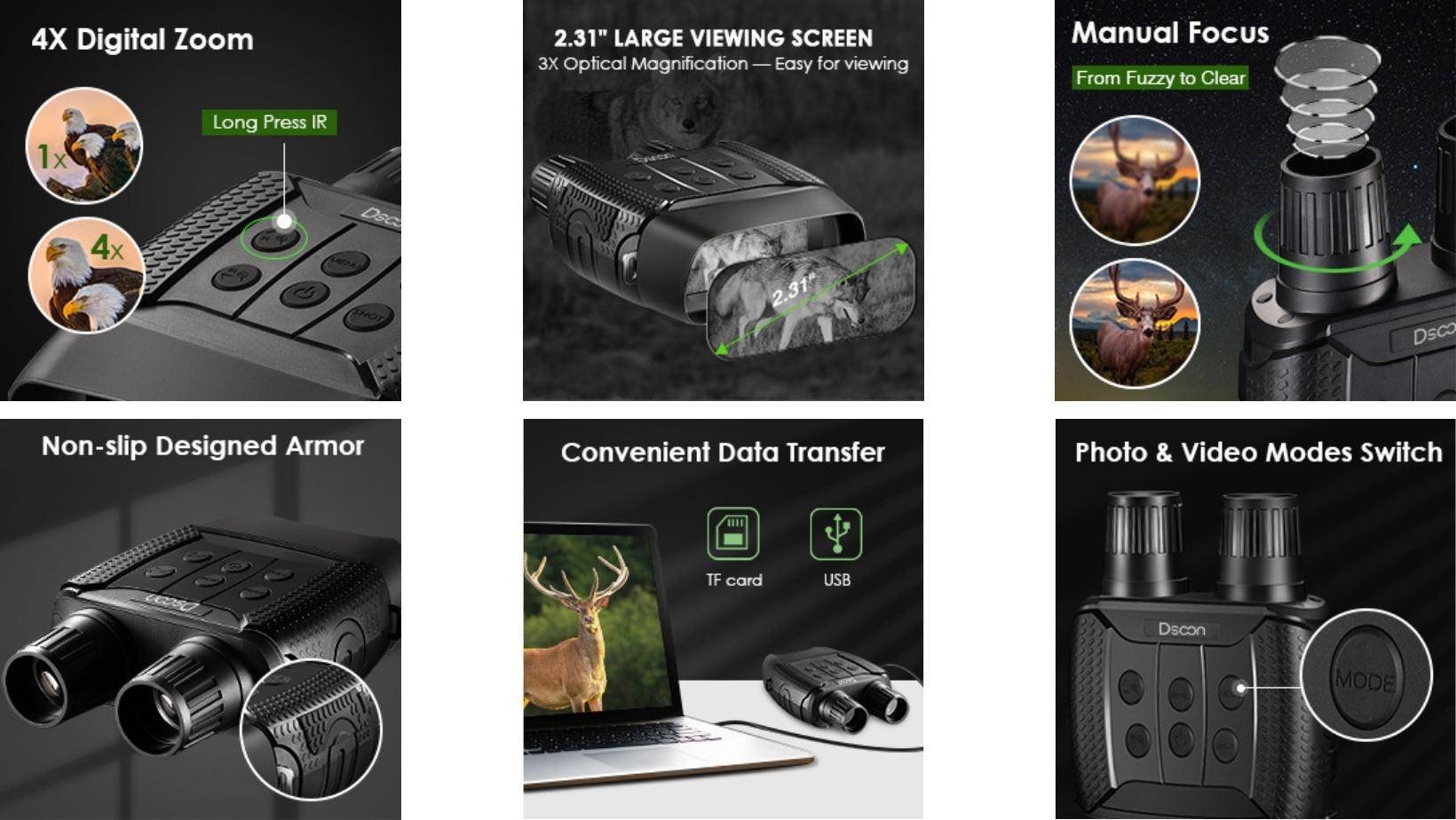 FREQUENTLY ASKED QUESTIONS
How long are your shipping times?
Please allow 7-14 days (to be safe) for shipping worldwide.
Do you have a money-back guarantee?
Absolutely! We have a 30 DAY RETURN - If for any reason you decide you aren't satisfied, contact our helpful customer support within 30 days of receiving your order and we'll refund you, no questions asked!
Yes, Helios comes with a Rechargeable Lithium Battery. AA batteries are not required. Save money & the environment!
How long does it take to completely charge?
Helios takes up to 5 hours to fully charge!
Can the Helios Binoculars be used during the day?
Yes, the Helios Night Vision Binoculars can be used during the daytime.
What is the night range and use?
Our Night Vision Binoculars offer a superior range of 300 yards. You can use it for wildlife watching, hiking, camping also, for hunting.
What's included in the kit?
Apart from the Helios Night Vision binoculars, you will find a case to store them, a neck strap, a USB cable, an A/V cable, a cleaning cloth, and a 32 GB memory card.
FREE SHIPPING ON ALL ORDERS
30 DAY MONEY BACK GUARANTEE
FAST & EASY REFUNDS & RETURNS